Posted by David Norman on 22nd May 2019
Words and Photos by David Norman of West Cork Bass
If your normal early season routine is to show up at your chosen coastal location, lure rod in hand, as soon as the sun shines and the seas warm each year and consistently catch Bass from the off then this article probably isn't for you… if you don't and it makes you feel better it's not like that for me either!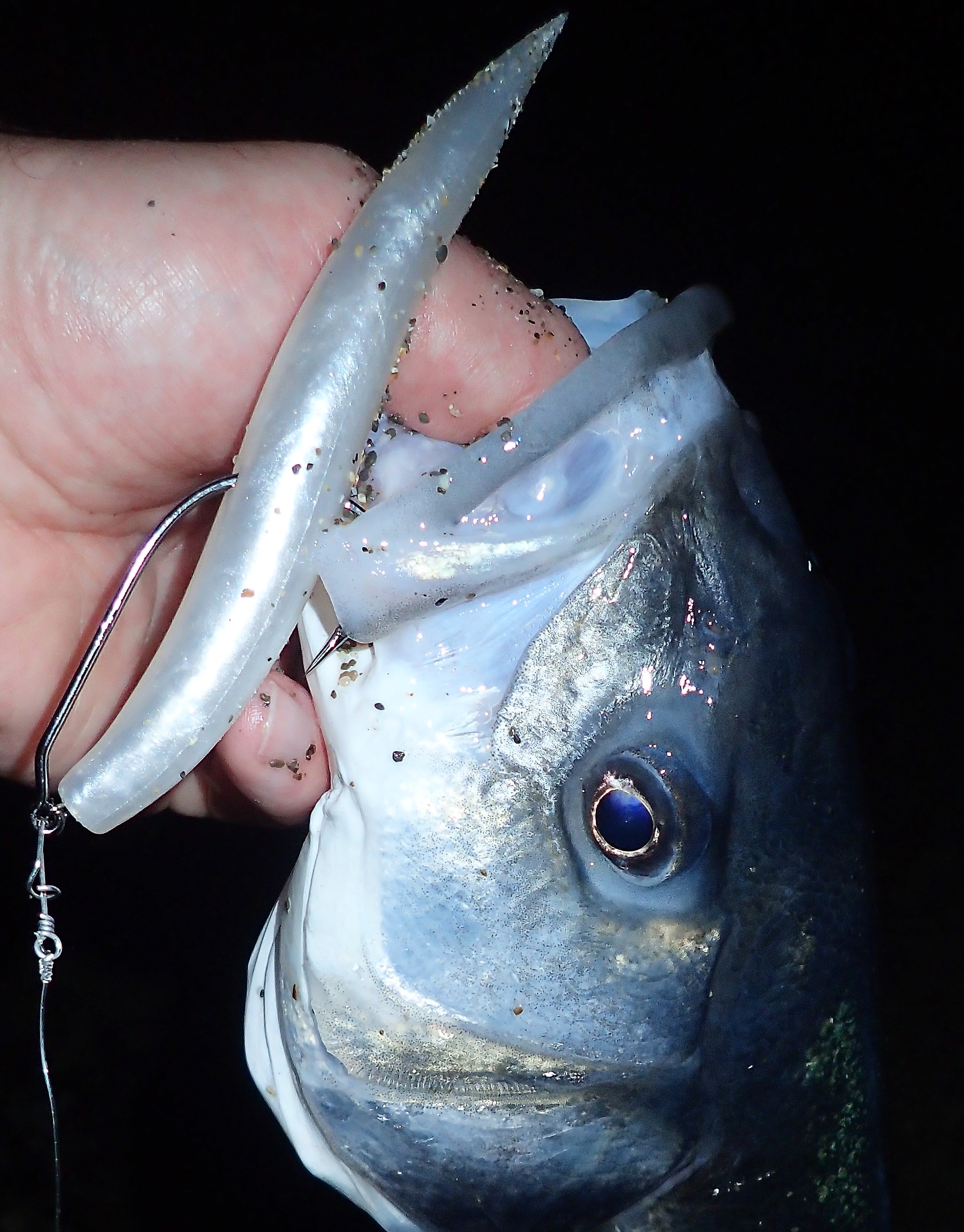 Bass caught on a Pirate Lures Bass Treat.
The first thing I'll consider is which week of the month to start my campaign here in beautiful West Cork, in years gone by I've lure fished 12 months of the year on my own patch and at all of the recognised Bass holding counties of Ireland, which I would consider to be (And including) anywhere South of Galway – Dublin, with Kerry, Cork, Waterford & Wexford having the largest populations. Through the depths of winter the time and effort required along with the limited windows of good conditions is not something I continue to pursue these days but the time spent was big part of my development as a Bass Angler and I thoroughly enjoyed it, catching or not.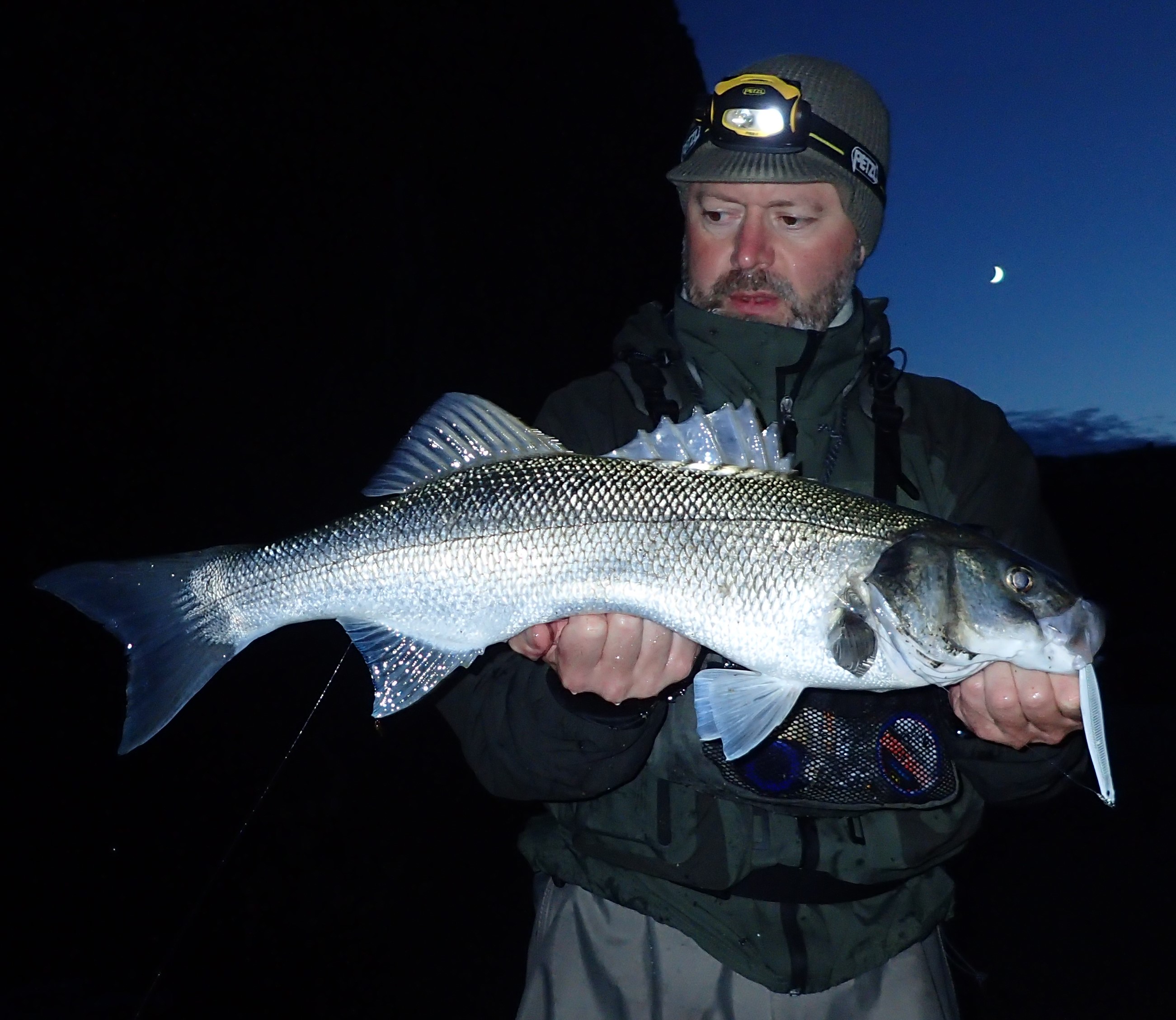 I've also started my season way too early locally and suffered a string of blanks that normally end at around the beginning of May. By mid-May I normally expect things to be up and running and it's easy to remember this timing as the now gone Irish Bass closed season of 15th May – 15th June designed to allow supposedly post spawning and fish to recover was a cause of great frustration for us as mainly C&R (Catch and Release) Bass Anglers. This was largely a well meant but blunt instrument that didn't do much for Bass indeed it left the coast devoid of anglers which according to rumor allowed netters a golden opportunity to access Bass with nobody watching but I don't personally know to what extent this did or didn't happen.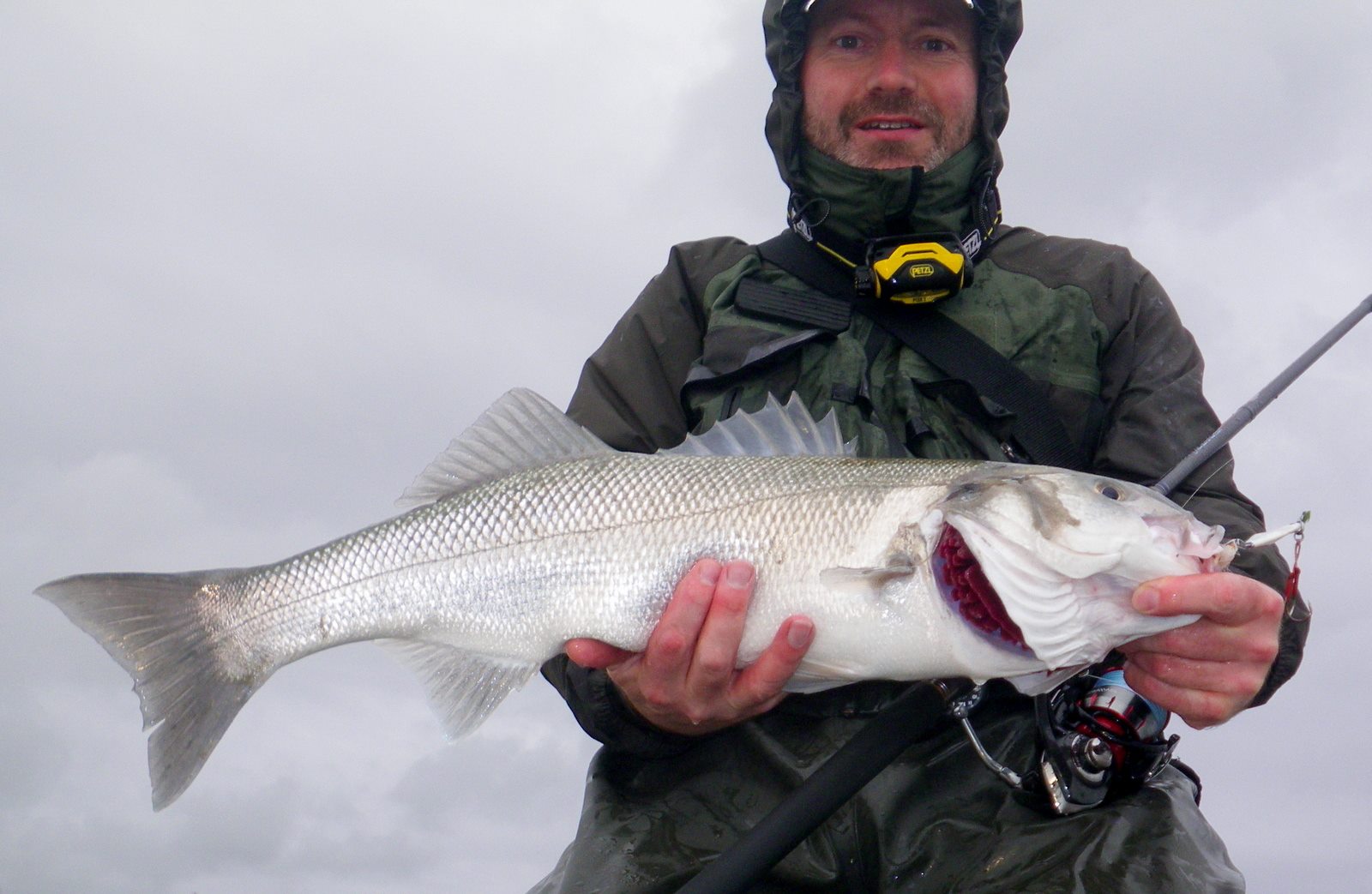 So it is from the beginning of May that I start to put in the effort here and expect to see my first Silver of the year but to put this into context I don't normally start Guiding until mid-June so it's the start of fishing but not necessarily to any level of reliability or in expectation of good results. These timings are very much condition dependent, normally it's a case of holding off for longer if conditions are poor rather than starting early if conditions are good!
Bass caught on a Megabass Spindle Worm.
One problem for my sanity at this time of year is social media! There's always somebody somewhere catching Bass seemingly at ease and posts are commonplace along the lines of "Just popped out after work to walk the dog, decided to take the lure rod and landed x amount of Bass"… leaving the rest of us feeling envious, inadequate and in years gone by leaving me wondering what I'm doing wrong and spurring me into heading out for another thrashing at the hands of another big fat blank!
So during these early weeks how do my tactics differ from peak season? I tend to do a lot of what I would describe as "Recon Fishing" I tend to spread myself thin and cover as much ground as possible for short sessions to get a feel for the locations and conditions versus results, along with checking out new locations or ones that I might have not visited for yours to look at them again with fresh eyes and added wisdom from lessons learned elsewhere. I also take in changes to beach structure since the previous seasons and factor this in to my tactics.
What I try not to do is head for the most reliable location of the previous season and park myself there session after session until it produces, which it probably will eventually, the patterns of success differ every season and it's only by covering ground that I can build up a picture for the new season, which is vital for my small scale guiding operation.
On beach structure, it never ceases to amaze me how much sand a shingle is removed over the winter by storms and the associated surf. Previously flat beaches can have a steady slope down to the water's edge, rocks protrude where once there was only beach, it really takes some getting used to, presumably in most cases the material is slowly replaced by tides during the calmer months but the gradual nature of this action is far less noticeable.
With regards to lure tactics I won't do anything hugely different to peak season but I will favour the conventional wisdom of fishing smaller lure and soft plastics such as Megabass Spindle Worms, small Fiiish Black Minnows, OSP DoLive Sticks, Pirate Bass Treats and the new Seaducer Hard plastics I like are the Megabass Zonk, Tide Minnow 140, Feed Shallow 128, Daiwa Shore Line Shiner 140 to name but a few! Metals commonly used are Savage Gear Seeker, Save Gear Psycho Sprat Also I would tend to fish my retrieve speed slower than normal during daytime and slow as normal at night. I would also look for deeper areas that should have a more stable temperature profile or shallow areas that have been warmed by the spring sunshine. There is a "Magic Ten sea surface temperature (10c) that we like to see at this time of year and currently we have an above average 12.2c with Bass starting to be caught. I don't tend to do much surface fishing early in the year as it's less likely for fish in cooler waters to have the aggression to smash a surface lure but it's also absolutely not out of the question!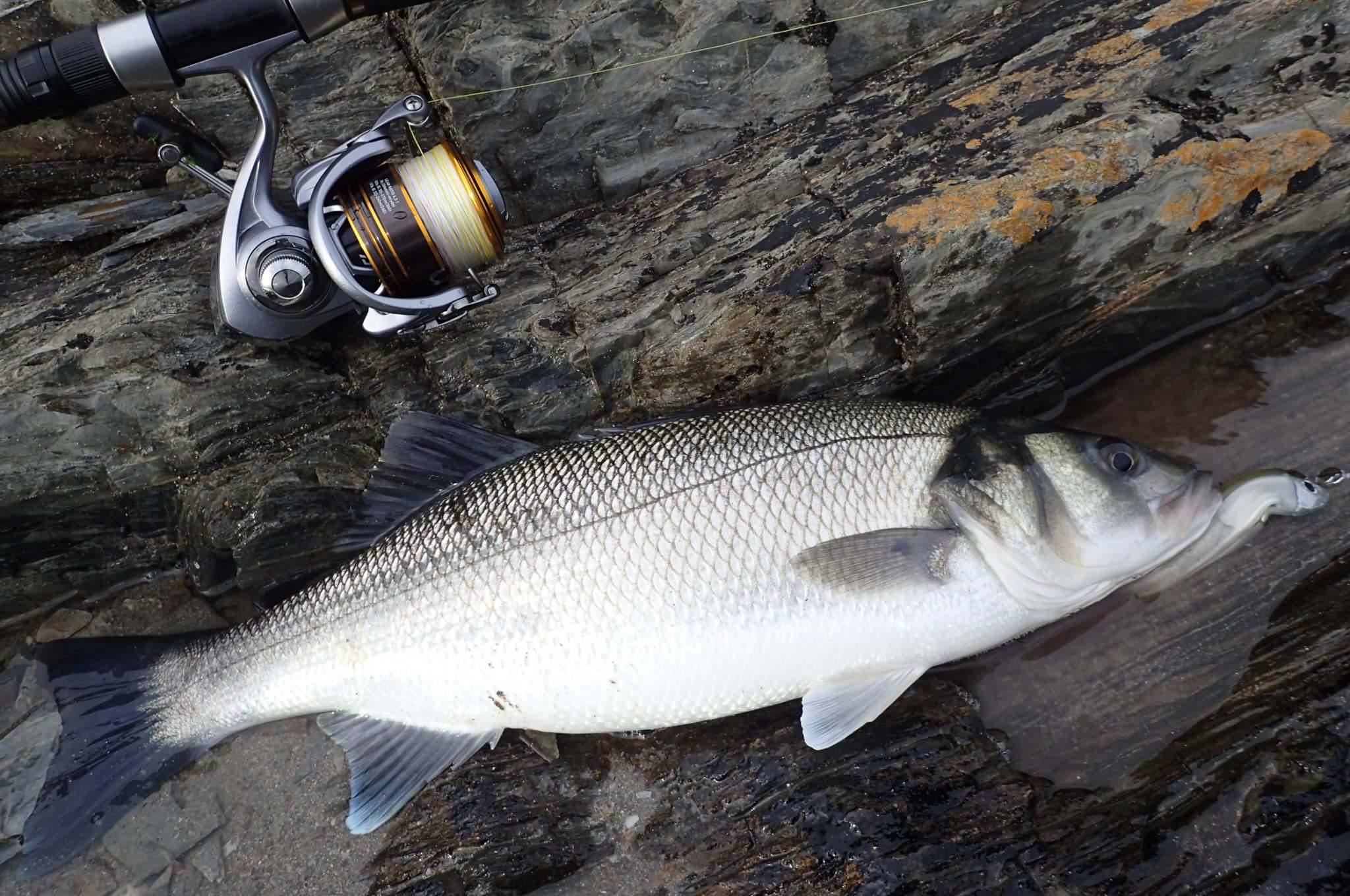 Bass caught on a Fiiish Black Minnow.
Temperature is an important consideration for Bass and fish in general as it allows them to metabolize their food quicker and ultimately grow faster although as we know Bass are slow growing with a 10lb specimen fish being probably around 20 years old and not commonly seen by us anglers these days.
So to summarize my early season approach is to be tactical, cover as much ground as possible by thoroughly fishing four or more locations in short sessions whilst probably taking a look at others along the way. I don't expect too much and I hold my nerve that I'm doing all the right things in all the right places at the right times in the tidal cycles and patiently wait for the results to come and provide me with information to build on throughout the season…
Hopefully you can apply some of this to your fishing and I wish you all a safe and enjoyable season of 2019 let's hope that the weather is kind and gives us the best possible chance. Please be responsible and respect fish, Catch and Release is the way forward J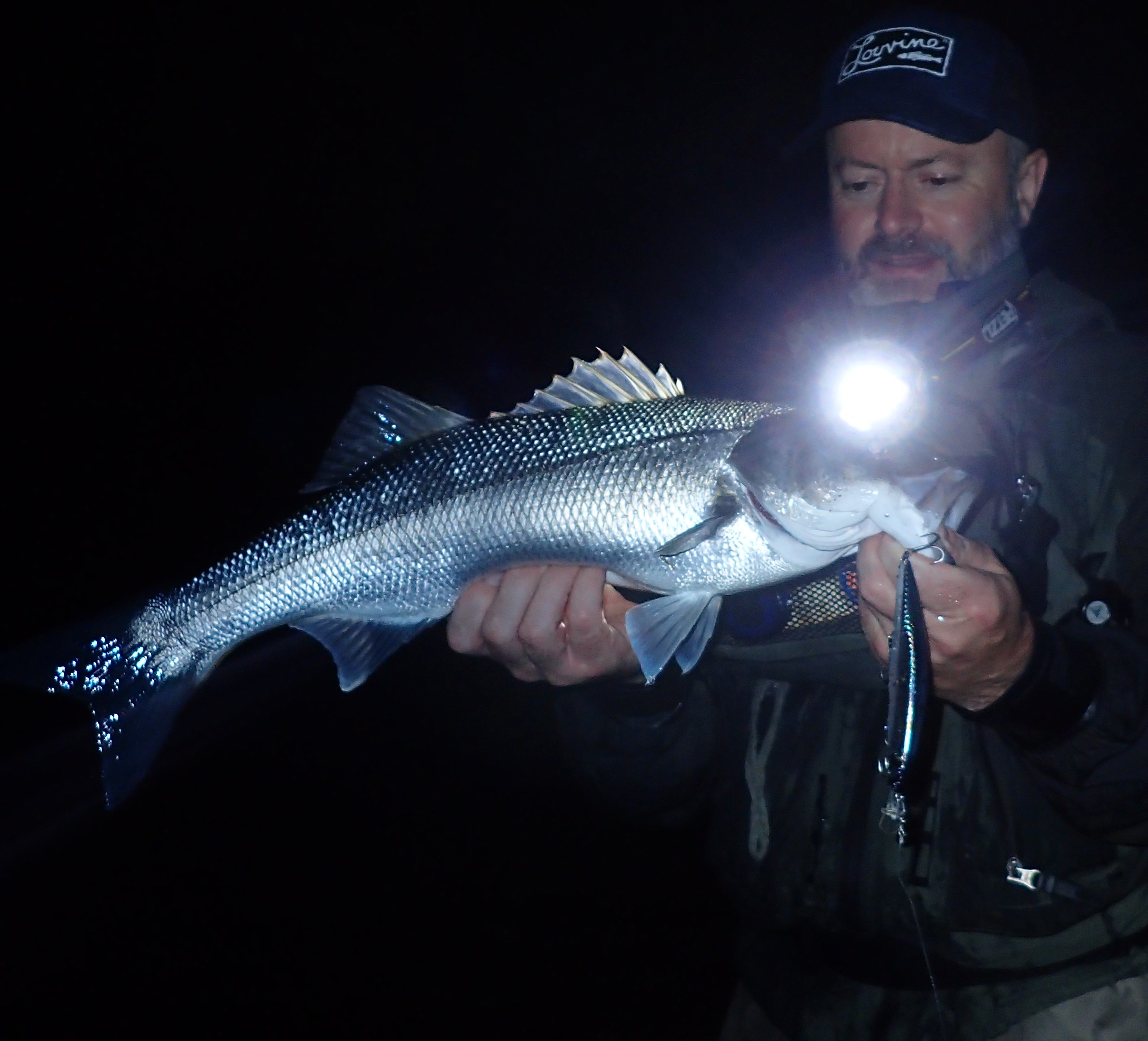 David Norman is based in West Cork, Ireland and runs a West Cork Bass offering One-to-One Guided Fishing & Workshops from mid-June to Sept and can be contacted at westcorkbass@gmail.com or followed online at: FB WEB - Youtube - Instagram